Japanese Spaceship Makes Christmas Delivery at Space Station
By 
Tariq Malik, Space.com Managing Editor
 |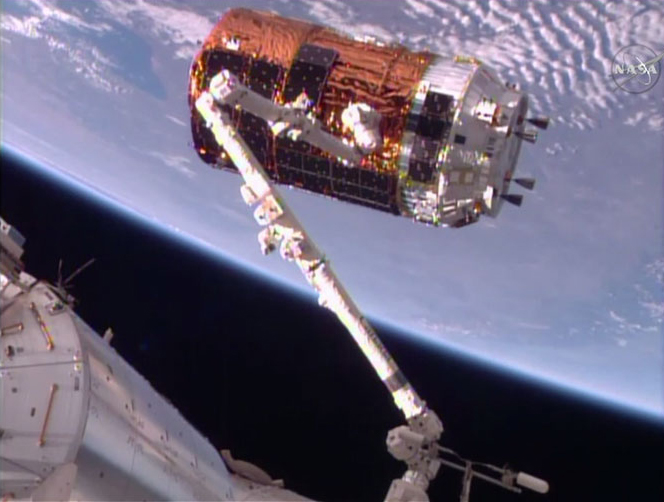 It may not be a sleigh driven by a jolly old elf, but a Japanese cargo ship arrived at the International Space Station today (Dec. 13) to make a Christmas delivery to the outpost's six-person crew.
The Japanese Aerospace Exploration Agency's robotic H-II Transfer Vehicle 6, or HTV-6, was captured by station astronauts using a robotic arm at 5:37 a.m. EST (1037 GMT). A few hours later, the cargo ship and its nearly 5 tons of supplies were attached to a berthing spot for unloading later. It is JAXA's sixth unmanned cargo delivery to the station using its HTV Kounotori vehicles(the name means "white stork").
"Beautiful," NASA astronaut and station commander Shane Kimbrough wrote of the delivery in a Twitter post after the rendezvous, which he called a great example of international teamwork. Kimbrough also snapped a stunning photo of the HTV-6 on approach to the space station. [Watch Japan's HTV-6 Launch Into Space]
http://www.space.com/35005-japanese-spaceship-christmas-delivery-space-station.html
Tags: HTV-6, International Space Station, Japanese Aerospace Exploration Agency, Japanese cargo ship, JAXA, NASA
This entry was posted on Thursday, December 15th, 2016 at 7:59 am and is filed under International Space Station, space. You can follow any responses to this entry through the RSS 2.0 feed. You can leave a response, or trackback from your own site.